If you have ever happened to be at the Kolkata airport, you must have noticed the considerably large 15 MW solar installation, which is also the largest at any AAI airport. Thanks to Vikram Solar, the Netaji Subhas Chandra Airport now meets its entire power demand from the solar electricity generated by the mammoth solar panel installation. Vikram Solar is the third-best solar panel brand in India as per our rankings, and also the third brand in our blog series which aims to introduce the top Indian solar power companies to our readers and people interested in Solar Energy.
What's next?
Established not long ago in 2006, Vikram Solar Limited is India's second-largest solar power company by revenue with the annual revenue falling in the 2000+ crore bracket. Headquartered in Kolkata and founded by Gyanesh Chaudhary, Vikram Solar primarily focuses on manufacturing PV solar modules and offering Engineering, Procurement, Construction (EPC), and Operations & Maintenance (O&M) services to solar plants and organizations.
Vikram Solar has installed more than 2.4 GW of solar panels globally, has provided EPC services for more than 1355 MW, and is currently undertaking O&M for nearly 700 MW of installed solar capacity. A part of the Vikram Group, Vikram Solar Limited has benefited greatly from the four decades of extensive manufacturing experience of their parent company.
Manufacturing Units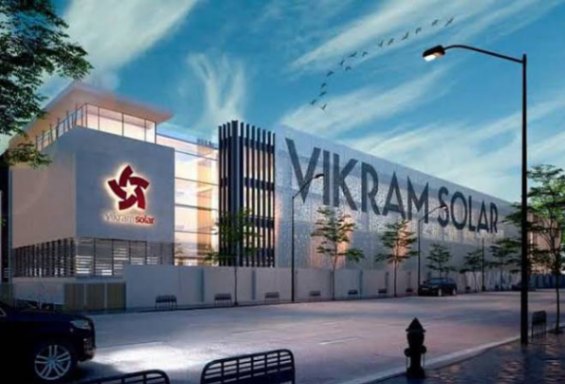 As per Bloomberg New Energy Finance's 2020 report, Vikram Solar is a Tier 1 solar PV module manufacturer. The company has fine manufacturing equipment imported from the US, Germany, Japan, and Switzerland and has an in-house R&D facility which ensures that their panels are always ahead of old trends and have cutting-edge technology. In 2017, Vikram Solar upgraded their manufacturing unit's production capacity beyond the illustrious 1 GW mark and it stands at 1.2 GW presently, not far from the brands having the top two ranks.
Vikram Solar has undertaken some large-scale projects across the country for clients like NTPC, Ramakrishna Mission, Jindal Aluminium among others. Their manufacturing unit is situated near Kolkata and they have signed an MoU with Tamil Nadu's state government to set up another 3 GW manufacturing unit in the state over the next five years.
Products
Vikram Solar Limited manufactures both Polycrystalline and Mono PERC as well as Monofacial and Bifacial solar cells and modules at its plant in Kolkata. Some of the unique features of their products are good low light performance, up to 12 years of product and 27 years of linear power output warranty, and PID resistance.
They have the Somera and Solivo series of modules for Monon PERC and Eldora series for their Polycrystalline modules, both of which come in 72 as well as 144 cell variants. The Prexos series consists of Bifacial solar modules. Vikram Solar also has different lines of modules for different countries to suit the climatic conditions of that region. The company offers the common Capex model as well as the Opex model to its clients for setting up solar power units.
Awards and Recognition
The company has won a number of awards and certifications from different organizations for its work in manufacturing solar modules and delivering EPC services. The brand received the 'Solar Manufacturer of the Year' award at Soft Disk awards 2019. They have also won the EPC award for 'Outstanding contribution in renewable energy'. They have also received the award for India's most preferred brand for solar and customer obsession award for two years in a row. A more comprehensive list of awards can be seen here.
Corporate Social Responsibility (CSR)
Vikram Solar has a wonderfully expansive CSR policy that touches upon many of the most essential of human needs like education, healthcare, environment, livelihood generation, and community welfare. The company describes its CSR philosophy as one that aims to give back to its 'Janmbhumi' as well as 'Karmbhumi'. Through their education initiative 'Nanhe Kadam', the company sponsors the education of around 300 less-privileged children by its evening school initiative. The company also supports an NGO that runs a school for girls on the peripheries of Kolkata that has more than 6500 enrolled students. The company has also set up a 60 metric tonne biogas plant to extract energy from animal waste. The chairman of the group Mr. H.K. Chaudhary heads Ballaram Hanumandas Charitable Trust that undertakes social activities for transforming the lives of people of Bahal in Haryana. Read more about their CSR activities here.