India has long been considered an ideal country to lead the global movement to energy in the form of solar. A combination of various geographical and climate-related factors, like 300 sunny days every year and clear skies, gives people the perfect incentive to adopt solar technology in India
Governmental solar energy initiatives
The solar boom can be seen in how the Government of India was among the earliest to acknowledge the potential of solar energy (in 1961) as well as the 35.12 gigawatts (GW) of total installed capacity (5th highest in the world). India also has the lowest capital cost per MW of installing solar plants. Since 2009, 14 states have announced state-specific solar policies in order to further incentivise installers and buyers. The initial Government goal of 20 GW of installed capacity was achieved years in advance and has been revised to 175 GW by 2022.
Although, initially most of this progress came from big industrial installations, rooftop installations by everyday Indian consumers has also increased dramatically. The Government of India has set a goal of 40 GW of rooftop solar by 2022. These installations are requested by individual households and community projects who are looking to save money due to the lower cost of electricity generated from solar. India's rooftop solar capacity reached 4.4 GW in 2019. Due to this enormous capacity, most states even allow owners to supply excess power to the grid at the prevailing market rate.
Solar costs and financing:
Whereas in 2010, solar power cost Rs.17 per unit, that figure has fallen by 85% to Rs.2.44 per unit. This means an Indian consumer enjoys the cheapest rates for solar power anywhere in the world, and the cost of solar is only expected to keep falling, making it a very lucrative proposition for Indian businesses and consumers to go solar. Just two examples of this are the Bhadla Solar Park in Rajasthan (largest in the world) and G.B Pant University in Uttarakhand.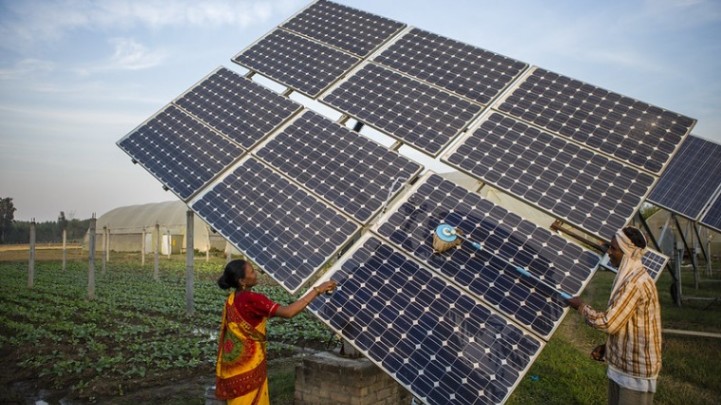 This progress has been aided by various Government incentives, mostly aimed at cost savings for consumers and businesses that decide to go solar. As per the Ministry of New and Renewable Energy, the government pays 30% of the installation cost as a subsidy to the installer. This is accompanied by cheap solar financing arrangements which means consumers put down only a tiny fraction of the total cost upfront, among which are solar bonds as well as low-interest solar loans provided by banks (including Reserve Bank of India) and NBFCs (non-banking financial corporations). Most solar installers even provide service and maintenance costs, sometimes up to 25 years after installation.
With the additional benefits of solar, like low maintenance, ancillary products (e.g. solar cookers, solar water heaters, etc.), solar subsidies and a long list of service providers both local and nation-wide, going solar has become a no-brainer for Indian consumers and businesses.