In the previous three posts on our blog, we talked about Waaree Solar Limited, Adani Solar, and Vikram Solar Limited - the top three Indian Solar Power Companies as per the Unergia score. Continuing with that, up for discussion in this blog we have RenewSys, another big name in the solar market that manufactures top tier solar panels and is a close competitor of the top three brands. In fact, when it comes to panel specifications, Renewsys is as good, if not better, than the top three brands.
What's next?
About RenewSys
A part of the ENPEE Group, RenewSys draws from more than 60 years of manufacturing experience of its parent company. The ENPEE group started out as a small business venture in Nigeria but has grown to a $300 million translational conglomerate with stakes in various sectors including FMCG, packaging, energy, chemicals, and construction. RenewSys, the solar arm of this huge global conglomerate, delivers to more than 40 countries internationally and has its offices across Asia, Africa, America, and Europe. RenewSys claims to be committed to improving solar technology and make it more affordable for the masses.
Manufacturing Units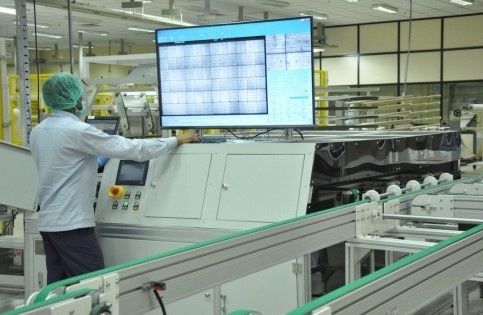 Renewsys not only manufactures Solar PV modules and Solar PV cells but also has production centers for back sheets and encapsulating materials like vinyl acetate and other cushioning and packing material for solar cells.
The company has two manufacturing units in India. The first unit is situated in Hyderabad and has a manufacturing capacity of 750 MW for solar modules and 130 MW for solar cells. The second unit, located in Bengaluru, manufactures EVA and POE encasing material and Backsheets for solar cells and modules. The manufacturing capacity of the Bengaluru plant is about 3 GW. Besides manufacturing, RenewSys has an extensive lab testing facility to assess the quality of its produce on various quality parameters like impact resistance, PID resistance, heat resistance, etc. You can take a virtual tour of the company's manufacturing facility through these videos.
The company is aspiring to increase its production capacity and aims to become the first choice for customers worldwide. Recently, the company launched Deserve Galactic Ultra, a solar module with 505 Wp and 20.17% efficiency, the first Indian and Global module to do so using G1 solar cells.
Products
RenewSys has a diversified range of products for both solar modules and solar components. Their products cover the needs of a small lighting system as well as that of a pumping set or utility-scale solar power plants.
The DESERV series offers:
Multi Crystalline/ Polycrystalline modules

-

Made in India completely with lower prices.

Mono-Crystalline modules -

High efficiency and suitable for both on-grid and off-grid applications.

High Voltage modules -

These are designed for purposes like powering pumping sets.

Galactic Series -

This offers high efficiency suitable for industrial usage and resists the PID effect and hotspot formation.

Bifacial Extreme -

It is claimed to be India's most efficient module with a total efficiency of 25.3%
Besides modules, RenewSys also manufactures solar components on a large scale. The solar components it manufactures are Encapsulants, Backsheets, Bus Bar Insulation, Solar PV Cells.
Awards and Recognition
RenewSys is a BIS and ISO certified solar manufacturer. It has also been independently audited by a number of solar power organizations and has received quality accreditations.
The company has won many awards including the 'Most promising integrated manufacturer of PV modules and equipment' and the 'Outstanding Achievement in Solar Sector'.
Corporate Social Responsibility (CSR
)
The website mentions the socially constructive activities that RenewSys participates in but doesn't detail down to what extent and in which manner the company does so. Some of the sectors that were mentioned on the website include waste management, effluent treatment, scholarships to college and Ph.D. students, sponsoring cancer patients, education, and healthcare. A more elaborate description of their CSR initiatives would surely help the company in engaging with their customers beyond transactional terms.